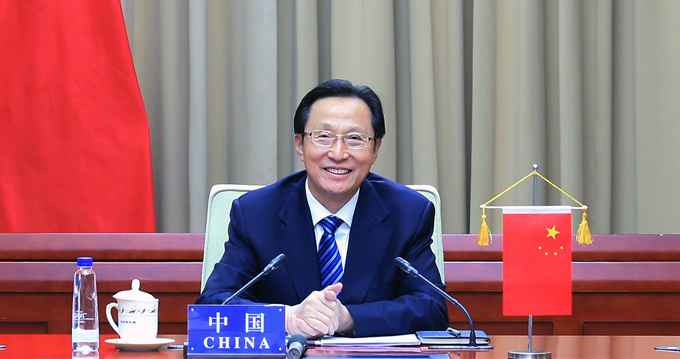 Minister Han Changfu addressed the extraordinary virtual meeting of the G20 Agriculture Ministers on April 21, 2020.
Minister Han stated that China is committed to the proposals made by Chinese President Xi Jinping at the extraordinary G20 Leaders' Summit, and stands ready to fight COVID-19 in solidarity with the rest of world while ensuring global food security.
Minister Han indicated that the global fight against COVID-19 once again proved true two things. First, all human beings belong to a community of shared future. The graver the disaster, the more united we should be. Second, agriculture sectors are the ballast of economies and societies. The higher the risks, the more important it is to safeguard agriculture. Keeping in mind that agriculture is the top priority, the Chinese government tackles disease control and agricultural production in an integrated approach, and continues to implement policies to improve the agriculture sectors and increase farmers' income to secure a good harvest for this year.
Minister Han emphasized that G20, an important leading force of the world, has the responsibility to join hands, and help ensure stable global supply chains of agricultural products and global food security. He made the following proposals:
First, G20 members need to strive to support and resume agricultural production, especially in the northern hemisphere where it is the planting season, a season that we cannot afford to miss, to secure a good harvest globally this year.
Second, G20 members need to ensure stable agricultural trade. It is important to reduce trade restrictions and support logistics for the international flow of food and other important agricultural products, which is vital to the functioning of agricultural trade and market stability.
Third, G20 members need to engage in stronger multilateral cooperation including supporting FAO, WFP, IFAD and other international organizations in playing their role in information sharing of agricultural production, mutual learning of experience, technical collaboration and policy coordination.
G20 Agriculture and food ministers agreed that emergency measures to stop the spread of COVID-19 must not upend global food supply chains. The G20 Agriculture Ministers Meeting_Statement_was released at the end of the meeting.
The meeting was chaired by Abdulrahman Al-Fadhli, Minister of Environment, Water and Agriculture of Saudi Arabia. Agriculture ministers of the G20 members and guest countries, and representatives from international organizations joined the virtual meeting. Vice Minister Zhang Taolin joined the virtual meeting.